Having a cabin shouldn't be difficult or out of reach. It can be very easy and affordable. Life is short, so it's time to start living that cabin dream.
I think there is something deep within us that makes us yearn for the beauty of nature. I know the desire to retreat to a cabin in the woods and enjoy God's creation runs deep in me and I'm sure it is the same for you. There is something deeply fulfilling sitting around a campfire and sharing stories with close friends and family.
You might also enjoy a little solitude. Just to get away from the busyness of life. We need this to decompress and recollect ourselves.  Many famous people have created work that influences the world in places like these. One of these influencers was the late Robert Frost who wrote beautiful poetry observing the beauty of nature.
You are in search of a place such as this, but not everyone can afford a cabin in the woods. And, where would you start? Prefab cabins are the affordable way to make this a reality. I will try to explain what a prefab cabin is and how it is a realistic option.
What is a prefab cabin?
The site-built cabins are cabins that are built entirely onsite. This means that all the materials are brought to the site where the cabin will be built, and all the labor is done on the premises.
Now, prefab cabins are cabins that have been partially constructed or completely constructed off premises before delivery. This results in some desirable differences.
What are the differences between site-built and prefab cabins?
Prefab Cabins' Durability
Prefab cabins are transported to location; whereas, site-built is built on location. This transporting process requires that the prefab cabin be built with a stronger structure. Some prefab cabins are built as separate units that are then assembled onsite.
Smaller prefab cabins are transported completely built. Again, this requires the building to withstand being lifted on to a truck, being transported, removed from the truck, and placed on your property. This requires that the structure of prefab cabins be sound!
Click on the button to see a previous post on materials that goes into our sheds. The materials and construction process is similar. We give you the option to finish out the interior which will save you money and gives you greater control.
The Affordability of Prefab Cabins
Prefab cabins often cost less than site-built cabins. This is mostly because of efficiency. Building onsite isn't as efficient with time, so the buyer pays more for the time it takes to complete the cabin. Each time a cabin is built on someone's property the crew is presented with a unique set of circumstances. Each of these circumstances has to be resolved for the completion of the cabin.
Prefab cabins are completed by laborers who work with very similar cabin models. Changes are made to these models, but for the most part, the crew has developed efficiency in the building process. They don't have to assess entirely new circumstances each time they build. This saves you money and this helps us hone the design to perfection.
Prefab Cabins Are for the Impatient
Prefab cabins save you time. As mention above it takes less time to build a prefab cabin. This means you can start using your prefab cabin while the site-built cabin could have you waiting longer.
Because it takes less time to complete a prefab cabin, it's a good idea to promptly get the site ready. Also, you should get any permits you might need. Check with your local zone law for this.
Own Your Prefab Cabin in 3 Easy Steps
Step One
You will want to decide on which cabin design you are interested in. Montana Structures has three models to choose from with many options to customize it to your liking.
Mt Lair Cabins
This design has a porch the length of the longest side of the cabin. This is great if you want to have a few chairs outside and just enjoy the view while undercover. Honestly to me, this model feels a bit like the old west. The sizes range from 12×10 to 14×36.
Lofted Cabins
This model has a gambrel roof which creates more space above. This space is utilized by building in a loft for sleeping or storage. I personally like this model because of the space it offers. The Lofted Cabin also has a porch at one end of the cabin. The porch is not the same length as the Mt Lair Cabin, but it is plenty for two or three people. The sizes range from 8×10 to 14×36.
Outfitter Cabins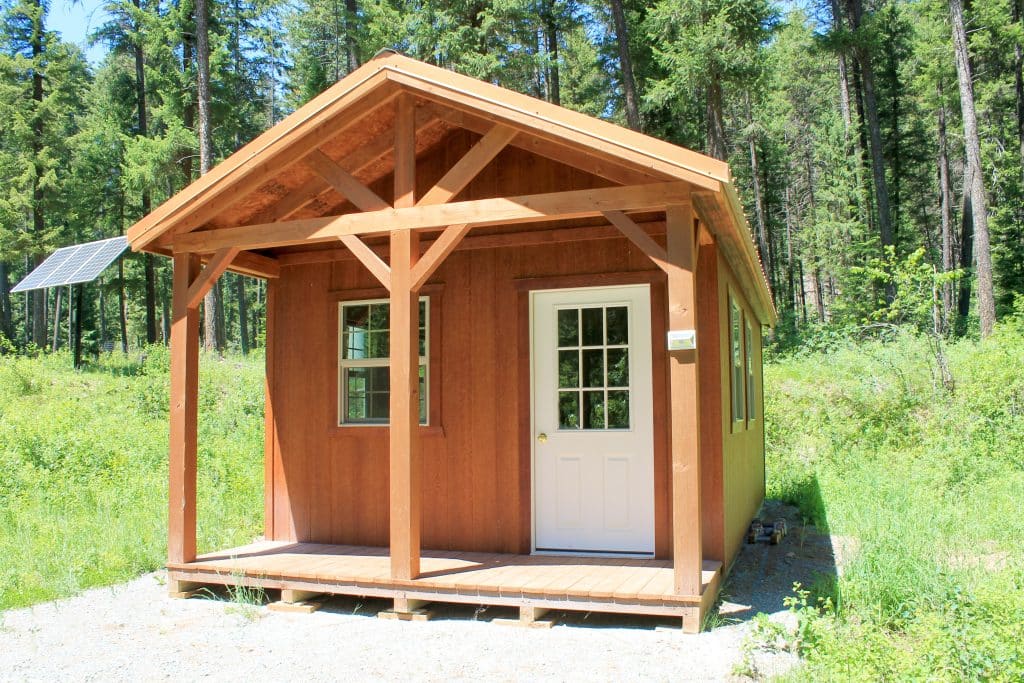 The Outfitter has a traditional gable roof with a porch at one end. This model has more of a traditional design. It can save a little compared to the Lofted Cabins, but you lose the loft. The sizes range from 8×12 to 14×36.
Step Two
Once you have an idea of what model interests you, then you get to create how you want it to look. You can have it stained or painted. I prefer the stained for the natural woodsy look. You have the choice of a metal or shingle roof. Metal roofs tend to run a little more than shingle roofs but hold up better over time. There are many other options to choose from to make it your own.
Step Three
Finally, you can pay for it in full or opt-in a rent to own option. There is a cabin in your future. Click on the button below to learn more.