Searching for the right storage shed isn't easy. You want a quality shed, but you don't want to pay more for a storage shed than it's worth.
This article will explain some of the unique features of our different shed designs so you can make an informed decision on which style is right for you. We'll look at some of the materials that go into a storage shed, as well as some of the things that can affect the cost of your new building.
Storage Sheds: Cost vs. Quality
Obviously, size is the biggest factor affecting the price of a storage shed. The larger the storage shed the higher the price tag, right? Well, sort of. Because not all aspects of a building scale equally, you'll most likely pay a bit more per square foot for a smaller storage shed compared to a larger one.
For example, one model of 8×8 storage shed cost about $25 per square foot compared to $17 per square foot for a 14×32 shed of similar design. To maximize value, it's often best to think larger rather than smaller. Plus, once we have a shed, we can usually find things to fill it with!
Size isn't the only thing that factors into the cost of a shed. Building components like roofing, flooring, and siding are also major contributors to the final price. Simply put, better materials will generally be more expensive. On the flip side, low-quality materials and poor building practices can quickly cost you a lot more.
Take water damage, for instance. Besides damaging your belongings, it can also warp shed walls, loosen studs, and generally destroy your storage shed. It's simply a bad scenario.
At Montana Structures, we keep water out with 30-year dimensional shingles or 40-year metal panels on our storage shed roofs.We also use tongue-and-groove PerformMax waterproof floors to prevent moisture build-up under the storage shed.
Another major consideration is the walls. They'll be one of the most exposed parts of your shed, so make sure they're weatherproof! At Montana Structures, we use an engineered wood siding panel called SmartSide. It comes with a 5/50-year warranty on painted sheds.
It's important to think through each component of your storage shed to make sure it's not going to be the weak link in your building's construction.
So, assuming your building or buying a storage shed made with top-notch materials, let's take a look at some of the different shed designs available to you, based on styles we offer here at Montana Structures. But first, let's look at one major item that divides building styles…
Storage Shed Roof Styles: Gambrel vs. Gable
Gambrel and gable roofs are by far the two most popular designs for storage sheds across the USA. The differences are fairly simple…
The gambrel roof features two different pitches (slope angles) on each side. This is the classic "barn look" as we know it. It's great for creating extra storage room or loft space. The gable roof is a typical roof with a single pitch on each side, as seen on most houses. Each of the shed styles we're looking at here feature either gambrel or gable roofs.
Gambrel Roof
Gable Roof
1-2. Mini Barn and Lofted Barn
Both the Mini and Lofted Barns have gambrel roofs. Again, these have four slopes instead of two, which meet at the top and are open on the ends. This creates a style popularized as the "barn look".
These two models are mainly different in how high their sidewalls are. The Mini Barn has side walls only half the height of the door, while the Lofted Barn has sidewalls 6'6" high. This discrepancy might lead you to wonder "how high is the ceiling if the walls are only half a door?"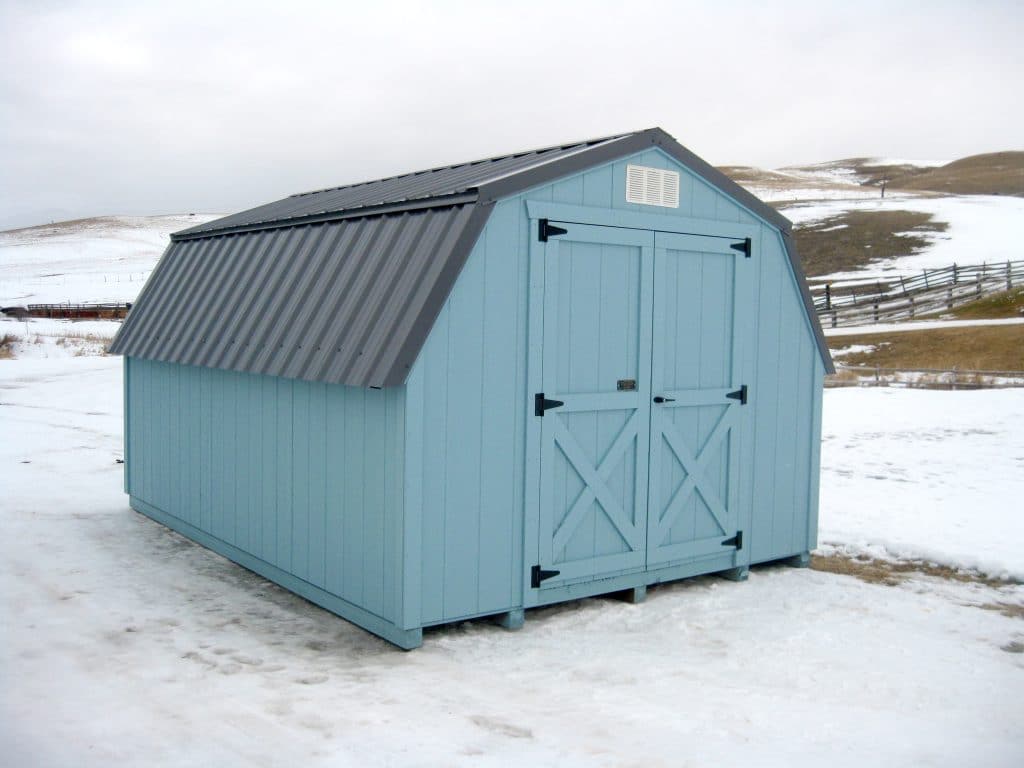 Because of the gambrel design, the mini barn has decent headroom while still keeping the lower walls. The lower walls make the Mini Barn is the most economical storage shed design on the market. It offers ample space for simple storage and many folks find it to be a great option. We offer the Mini Barn in sizes ranging from 8×8 to 14×32 and it always comes with a 5-year top-to-bottom warranty.
On the other hand, if you're looking for more headroom or want the maximum storage space out of all our options, then the Lofted Barn is the way to go. The Lofted Barn comes with a built-in loft half the length of the barn. The extra upper space allows for this feature and adds value to this storage shed. You can store far more with less square footage. The Lofted Barn comes in sizes from 8×10 to 14×36 and also features our 5-year warranty.
3-4. Anaconda and Utility Sheds
These are two of our most popular designs with gable roofs.
The Utility Shed is our simplest gable roof storage shed and ranges in size from 8×8 to 14×32. Its walls are 7' high and it comes with a 12-year top-to-bottom warranty.
Some people like adding windows for the extra light they let in. If you don't need windows, shutters, or planters, you can save by opting out of these options.
Speaking of windows, meet the Anaconda Shed! It's a more feature-rich design than the Utility Shed, and features several windows.
The Anaconda Shed ranges in size from 6×8 to 14×36 and has a 10-year top-to-bottom warranty. Its walls are 6'6" high.
5. Brookside Shed
The Brookside storage shed could have been put with Anaconda and the Utility storage sheds because it shares the same style of roof. We decided to separate them, because of the porch feature that you get with the Brookside model.
Depending on how you intend to use your storage shed, a porch may be just the feature to take it from good to great! If you plan to use your storage shed as a "she shed", "man cave", "guesthouse", or "playhouse", a porch is definitely a plus. Whether or not you plan to fully finish the shed's interior, you'll always have the option of adding a few chairs and enjoying a summer evening out on the porch. Plus, the overall visual appeal of this building is unmatched!
Remember, you can also add shutters, planters, etc. to create whatever look you want. Because the sizes range from 8×12 to 14×36 you could actually create a fairly large guesthouse. This model has a 10-year top-to-bottom warranty and offers many options and add-ons.
See Brookside Storage Sheds
Or…Design Your Own!
Maybe you have some ideas of your own and none of these models seemed exactly right for you. Don't worry, we have just the thing for you…the 3D Storage Shed Builder! This tool will help you design exactly the building you want.
I hope some of this information has helped give you some direction on your storage shed. We would love to talk to you and help you work out the details of your new shed. Go to our Free Quote page and with a few clicks, you'll tell us what you are looking for and receive a free quote.