Montana Structures Shed and Garage Reviews
Welcome to customer reviews and testimonials for Montana Structures. We love to hear from our customers and invite you to join our growing family of happy customers!
What our customers are saying:
If I Could Give Them 10 Stars I Would
I was so happy to see my custom garage coming down my driveway!  It just matched the cedar-stain siding on my house and it looks so good now, standing strong, nestled under the trees, as if it had always been there.  I live on a precarious narrow back-woods road and the driver, Titus, did an excellent job of getting my garage through the trees, steering it around tight corners and placing it on the pad, exactly where I hoped it could go.  Before the driver delivered my garage; Tony and Justin, who were also skilled and professional, created the pad for it, to sit perfectly, on what had been a very uneven piece of ground.
Before it was ever built, I went online to Montana Structures Specialized Website and was able to design the garage exactly as I wanted it.  I then talked to Jon, who was experienced and knowledgeable.  He oversaw everything from beginning to end and helped me streamline the details.  The workmanship of the carpenters that built my garage was excellent too. But then, I knew it would be; as I had previous experience with Montana Structures, when I had bought one of their custom greenhouses a few years back.  My greenhouse is very sturdy, still is in perfect condition and looks like new; so, I had no desire to look elsewhere for another company to build my garage.
It is so great to have such a high-quality, professional company right here in Plains and I can't say enough about their superior workmanship, great value at fair prices and their excellent service, from the administration at the top, down to the driver, the carpenters and the staff.  If I could give them 10 stars I would.  And no, I didn't get paid for this review; it is just so refreshing to find such integrity and value in these unprecedented times.
Dianne
Winter
Plains, MT
April 19, 2022
Expectations Were Exceeded
Jon,
The building arrived right on schedule yesterday, and we could not be more pleased! The entire process has been wonderful, beginning with your responses to my email request for a quote while on vacation, to Howard arranging the timing and delivery, then culminating with Mr. Yoder delivering and setting up the building perfectly.
My expectations were exceeded, for which I thank you very much!
Allison
Clark
Valier, MT
March 15, 2022
We Love the Quality
We love the quality and craftsmanship of our run in shed… our realtor is even going to use ours to show this to potential clients for some free advertising for you guys!
Misty
Wilen
Butte, Montana
July 6, 2021
Fast Exceptional Service
Dear Howard and Jon,
Just wanted to thank you for the fast exceptional service in helping us get our new shed before construction on an upcoming garage. This helped us out a lot. Your staff is great.
Thank You
Sue and Bill Brown
Sue and William
Deer Lodge, MT
May 12, 2021
Very Happy With My Purchase
Jon, my shed was delivered yesterday 11/2/2020 and I just want to say thank you, I am very happy with my purchase and was blown away with the delivery system, the way that Titus Yoder was able to maneuver the shed into just the right spot was impressive to watch. Again thank you, and your team.
Brad
Prigge
November 4, 2020
The service I got from Montana Structures was great
The service I got from Montana Structures was great. They are very good at unloading your structure just how and where you want it. I was very surprised when they unloaded my cabin, how they can move it around so easily. They build quality structures. Everyone was very helpful and super nice. Nick Giard – Bozeman
September 14, 2020
The whole experience was wonderful
Hi, yes, this is a message from Kathy and Earnie Fry leaving for Jon and Howard. Titus and Seidy just drop off our beautiful, beautiful shed. We are so happy with it Jon, so happy. And, it was wonderful to deal with you people, the whole experience was wonderful. We've done some home improvement this summer at the house and worked with some contractors and so on… and it was nothing compared to working with you people, believe me. So, we appreciate your professionalism and your personal touch. I thank you, and I sure would recommend you to anybody!
September 14, 2020
Great Work and Amazing People
Howard,
I just wanted to take a minute and tell you how much we have appreciated your great work and getting us the horse shelter we needed! Titus and his daughter were amazing and placed the building in the exact location I needed it. The run-in shelter looks great and we will keep you in mind for any future building needs.
Thanks,
Dan and Gina Eyer
August 28, 2020
Excellent company and customer service!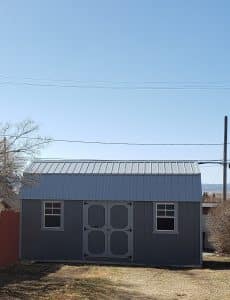 On April 9th, I received a call from Titus. He stated that he would be at my house at approximately 0900,
he showed up about 0915, at the same time, my bank called me and advised that the other company
had attempted to remove the funds for the cancelled barn.
Titus backed the barn into my yard, unloaded it from the trailer, then used the "Mule" to put it in place.
I put it directly on the footings I had prepared. Within two hours, he had it unloaded and leveled right
where I wanted it!
The quality of this barn is second to none, I have never had any business react to my situation in such a
positive way as Griffin Creek had. Jon provided me with the best customer service I have ever seen,
knowing the issues that I had gone through with the other company, to where I got my lofted barn in
less that 24 hours! Incredible!
Titus was equally as helpful in putting the barn exactly where I wanted it and made it look easy. This is
the model of what a great company should be, I would highly recommend Griffin Creek Structures to
anyone in need of a cabin, garage, shed, chicken coop, barn or any outbuildings!
Jon and Titus, thanks for the great service!
I only gave them 5 stars, because you can't give them 6…
George Holland
Butte, MT.
April 2020
George
Holland
Butte
April 21, 2020
Kennedy Common Project
Howard and Crew,
Thank you for all that you have done to help us accomplish our goal of a multi-use structure at Kennedy Common.
We greatly appreciate your high level of communication! It has been a very positive experience to work with your company.
Sincerely,
Rose Nyman
Kennedy Common Project
November 13, 2019
The Craftsmanship is Exquisite!
We just received delivery of our 12×20 Lofted Barn this morning. We had looked at many different companies and we are so glad we decided on a Griffin Creek Structures building! The craftsmanship is exquisite and the whole process from ordering to delivery was amazing. Jon the representative wanted us to be totally satisfied and he took the time to go over everything we may want. Titus Yoder the delivery man was truly one of the nicest people we have met. He was a true pleasure and he again insisted the delivery be " just right". We highly recommend you get your shed from Montana Structures!
Mike and Sheila
Noblin
Philipsburg, Montana
September 6, 2019
Fantastic Service!
Fantastic service! We shopped around extensively. We found Montana Structures to be the best quality for the best price! Titus was amazing! Got our shed in a tight spot with ease! Plus very detail-oriented even painted over the small abrasions from a sign that was hung on the building! I enjoyed watching his expertise with the mule! We are more than happy with our easy and timely experience with Montana Structures. We highly recommend them! 🙂
Sherri
Stamm
Montana
September 6, 2019
It is Perfect
A special thank you to Titus. He did a fantastic job unloading and getting the shed moved and placed where it needed to go. He was so friendly, professional, and patient even while working in the rain. He certainly knows what he is doing and he does your business proud. I have had a few people ask about your sheds, so I hope they come your way. Have a great rest of the year and I hope "2020" is a prosperous one for you all!
Thank you all so much for completing our utility shed before the weather gets bad. Once again, you did a beautiful job and my husband and I "love" it. It is perfect. All of our goods fit perfectly with room to spare. The color and trim are perfect. Once again, thank you.
Corry & Peggy
Pearson
Anaconda, MT
August 24, 2019
The cabin looks great
The cabin looks great! Titus is the man, he did his magic and got it placed perfectly. Thank you for this very nice structure!
Sharon
Bozeman, Montana
June 28, 2019
Loft Barn – I am very pleased
I just wanted to thank you for all you did for me in getting my new loft barn here. I am very pleased with the whole project and I just love the barn. Tell your brother thank you too. It is perfect. It's been a pleasure doing business. Thanks again.
Marlene
Swant
Deer Lodge, Montana
June 28, 2019
Everything looks great
Everything looks great, and great job! Your delivery folks also did a fine job, very personable.
Thanks again,
Steve
J
Anaconda, Montana
February 26, 2019
Love my Garage!
The purchase and delivery process were very easy. The quality of the unfinished unit is excellent. I appreciated the recommendations for site prep as well as advice on finishing the unit. I've spent a bit of time finishing the unit to match my home as well as the interior so it is an all-season garage. Ceilings and walls are insulated and wired. Interior finished with pine paneling and floor finished with a rubber tile floor to be waterproof. I even put in heat and a window air conditioner to spoil myself and my little red baby… I couldn't be happier.
Russell
Russell
Logan
Plains, MT
September 18, 2018
Above and beyond!!
The crew from Montana Structures went above and beyond with my 14×36 cabin. They made the process very easy from start to finish. With out a doubt they made dreams come true. Thank you very much!!
Josh
O'Neill
Butte MT
August 14, 2018
Extremely Pleased
The 12 X 32 Utility Shed was delivered yesterday and I'm extremely pleased with it. Titus did a great job with the delivery, levelling and positioning.
The quality of the building is outstanding!
Many thanks and I'm looking forward to the other two buildings.
Philip
August 7, 2018
Love the Shed!
I love the shed! The gentleman that delivered it was very cordial and did a great job getting it where I wanted it placed. I have a feeling another one is in my future. Thank you again!
Sharon
Bozeman, Montana
July 12, 2018
The Horse Barn is Perfect!
I've been meaning to send you photos of the livestock shelter we ordered so you can see how it fits in with our other out-structures. The time you spent working with my husband and I clarifying the stain color, roof color, and size of tack-room really paid off. As you can see it's "perfect." I also wanted to comment on the delivery service you used. The gentleman that delivered the pre-fabricated shelter was prompt and professional. I was mesmerised as I watched one man, along with a piece of machinery, move the shelter behind the existing garage and around the trees. Not only am I happy with the product and service, so are my horses who now use the shelter. Thank you so much!
Sandi
Jones
Troy, MT
July 12, 2018
The Shed is Excellent!
I just wanted to thank you guys again for all your efforts on the shed and your quality work. The shed is excellent and we are very pleased, it was a pleasure doing business with you.  Thanks again!
Brett
Ellison
Whitehall, MT
April 19, 2018
Great Experience!
I want to say this entire experience was very good. I think the customer service and communication that I have received from the initial point of inquiry, to clarifications and order placement, through delivery and follow-up have been top notch. It would be a very welcome breath of fresh air if more of our locally owned/operated companies adopted a business model similar to that of Montana Structures LLC and their affiliates.
Bradley
Kucera
Dixon, MT
April 19, 2018
Amazing Greenhouse
Jon….we received the greenhouse today!  It is beautiful and way beyond our expectations.  Howard did a fantastic job,  and Titus, who delivered was very thorough.  Thank you so very much.  Several neighbors came by to check it out and all think it is very nice.  We made sure we told them we purchased it though you.  I am attempting to send some photos.  They may have to be sent one at a time.  Sorry if that is the case.  Thanks again.
David and Morgan
Saint Regis, Montana
April 19, 2018