Montana Structures Shed and Garage Reviews
Welcome to customer reviews and testimonials for Montana Structures. We love to hear from our customers and invite you to join our growing family of happy customers!
What our customers are saying:
Kennedy Common Project
Howard and Crew,
Thank you for all that you have done to help us accomplish our goal of a multi-use structure at Kennedy Common.
We greatly appreciate your high level of communication! It has been a very positive experience to work with your company.
Sincerely,
Rose Nyman
Kennedy Common Project
November 13, 2019
The Craftsmanship is Exquisite!
We just received delivery of our 12×20 Lofted Barn this morning. We had looked at many different companies and we are so glad we decided on a Griffin Creek Structures building! The craftsmanship is exquisite and the whole process from ordering to delivery was amazing. Jon the representative wanted us to be totally satisfied and he took the time to go over everything we may want. Titus Yoder the delivery man was truly one of the nicest people we have met. He was a true pleasure and he again insisted the delivery be " just right". We highly recommend you get your shed from Montana Structures!
Mike and Sheila
Noblin
Philipsburg, Montana
September 6, 2019
Fantastic Service!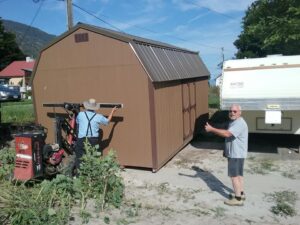 Fantastic service! We shopped around extensively. We found Montana Structures to be the best quality for the best price! Titus was amazing! Got our shed in a tight spot with ease! Plus very detail-oriented even painted over the small abrasions from a sign that was hung on the building! I enjoyed watching his expertise with the mule! We are more than happy with our easy and timely experience with Montana Structures. We highly recommend them! 🙂
Sherri
Stamm
Montana
September 6, 2019
The cabin looks great
The cabin looks great! Titus is the man, he did his magic and got it placed perfectly. Thank you for this very nice structure!
Sharon
Bozeman, Montana
June 28, 2019
Loft Barn – I am very pleased
I just wanted to thank you for all you did for me in getting my new loft barn here. I am very pleased with the whole project and I just love the barn. Tell your brother thank you too. It is perfect. It's been a pleasure doing business. Thanks again.
Marlene
Swant
Deer Lodge, Montana
June 28, 2019
Everything looks great
Everything looks great, and great job! Your delivery folks also did a fine job, very personable.
Thanks again,
Steve
J
Anaconda, Montana
February 26, 2019
Love my Garage!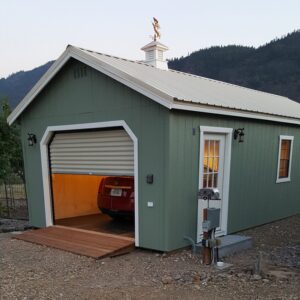 The purchase and delivery process were very easy. The quality of the unfinished unit is excellent. I appreciated the recommendations for site prep as well as advice on finishing the unit. I've spent a bit of time finishing the unit to match my home as well as the interior so it is an all-season garage. Ceilings and walls are insulated and wired. Interior finished with pine paneling and floor finished with a rubber tile floor to be waterproof. I even put in heat and a window air conditioner to spoil myself and my little red baby… I couldn't be happier.
Russell
Russell
Logan
Plains, MT
September 18, 2018
Above and beyond!!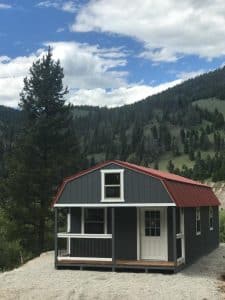 The crew from Montana Structures went above and beyond with my 14×36 cabin. They made the process very easy from start to finish. With out a doubt they made dreams come true. Thank you very much!!
Josh
O'Neill
Butte MT
August 14, 2018
Extremely Pleased
The 12 X 32 Utility Shed was delivered yesterday and I'm extremely pleased with it. Titus did a great job with the delivery, levelling and positioning.
The quality of the building is outstanding!
Many thanks and I'm looking forward to the other two buildings.
Philip
August 7, 2018
Love the Shed!
I love the shed! The gentleman that delivered it was very cordial and did a great job getting it where I wanted it placed. I have a feeling another one is in my future. Thank you again!
Sharon
Bozeman, Montana
July 12, 2018
The Horse Barn is Perfect!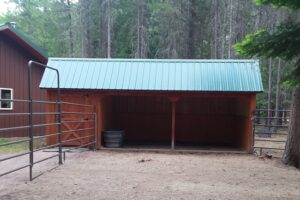 I've been meaning to send you photos of the livestock shelter we ordered so you can see how it fits in with our other out-structures. The time you spent working with my husband and I clarifying the stain color, roof color, and size of tack-room really paid off. As you can see it's "perfect." I also wanted to comment on the delivery service you used. The gentleman that delivered the pre-fabricated shelter was prompt and professional. I was mesmerised as I watched one man, along with a piece of machinery, move the shelter behind the existing garage and around the trees. Not only am I happy with the product and service, so are my horses who now use the shelter. Thank you so much!
Sandi
Jones
Troy, MT
July 12, 2018
The Shed is Excellent!
I just wanted to thank you guys again for all your efforts on the shed and your quality work. The shed is excellent and we are very pleased, it was a pleasure doing business with you.  Thanks again!
Brett
Ellison
Whitehall, MT
April 19, 2018
Great Experience!
I want to say this entire experience was very good. I think the customer service and communication that I have received from the initial point of inquiry, to clarifications and order placement, through delivery and follow-up have been top notch. It would be a very welcome breath of fresh air if more of our locally owned/operated companies adopted a business model similar to that of Montana Structures LLC and their affiliates.
Bradley
Kucera
Dixon, MT
April 19, 2018
Amazing Greenhouse
Jon….we received the greenhouse today!  It is beautiful and way beyond our expectations.  Howard did a fantastic job,  and Titus, who delivered was very thorough.  Thank you so very much.  Several neighbors came by to check it out and all think it is very nice.  We made sure we told them we purchased it though you.  I am attempting to send some photos.  They may have to be sent one at a time.  Sorry if that is the case.  Thanks again.
David and Morgan
Saint Regis, Montana
April 19, 2018