Amish Poly-Furniture For Sale In The USA
Poly Furniture is the gold standard for outdoor dining sets, Adirondack chairs, gliders and more. When you buy resin outdoor furniture, you can be assured that it will stand the test of time and that your purchase is safe for the environment. Our Montana Poly Furniture is made from recycled milk and detergent bottles and decontaminated to a purity level of over 99% HDPE. Every PolyCraft outdoor furniture product comes with a lifetime residential warranty and is available for shipping anywhere the lower 48 states.
Poly Adirondack Chairs
Our Poly Adirondack Chairs are designed for superior comfort and durability. Plus, available in a wide variety of colors, they look good anywhere—on your patio, in a gazebo, or in the shade of your favorite tree.
Choose between the Urban Adirondack Chair, Folding Adirondacks and If you're looking for the top of the line, the Deluxe Adirondack chairs are the gold standard but any of our resin outdoor Adirondack chairs will serve you for years to come.
Don't miss the matching Poly Rockers and Poly Swings.
See Adirondack Chairs
Poly Lounges and Benches
Relax, recline, take a snooze, or soak up some sun in one of our poly lounges, poly benches or our assortment of poly rockers. Poly Lounges can easily be adjusted to your preferred comfortable position. You can opt for a seating position while reading a book, lay flat while taking a nap, or recline slightly to simply relax and take it easy!
Poly Benches add to your patio collection and offer space for one or two people to join in the conversation and enjoy time in building timeless relationships.
See Lounges and Benches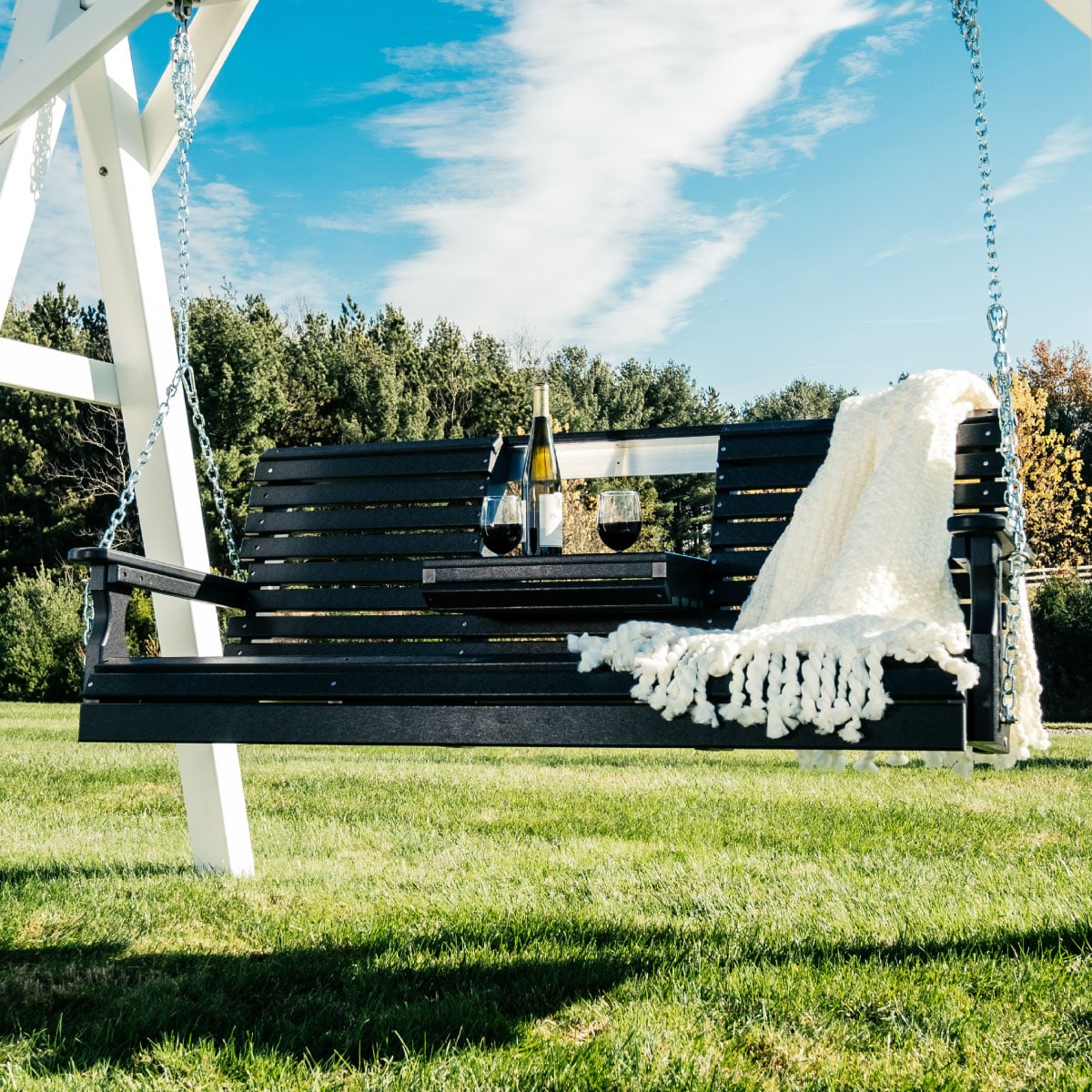 LuxCraft Poly Swings
Simple, elegant, effortlessly beautiful; and ready to play a central part in your outdoor living space. Our Poly Swings are perfect when you want a haven that will blend in with lush surroundings without calling too much attention to itself—letting you sit back, relax, and enjoy all that Mother Nature has to offer.
The 5′ option comes standard with a flip down center console. When you're ready to seat three, a metal locking pin keeps the center console raised. Add some some hassle free Adirondack Chairs or a poly glider to complete the set.
See Poly Swings
Poly Gliders and Rockers
Whether you're enjoying an ice cream cone in the summer sun or kicking back to watch family fireworks on the Fourth of July, our Poly Gliders are the perfect seating choice for every occasion. Dress them up with a soft throw or some of our cushions and enjoy an outdoor experience with the one you love most.
What comes to mind when you think of a porch rocker? Small towns, friendly waves, the sounds of singing birds, and the peaceful quiet of sitting on the front porch as the day fades to night. Our Poly Porch Rockers, offer classic design and simple beauty, will transport you to times sitting on your grandparents' laps, listening to stories, and rocking in your favorite chair.
Download the Catalog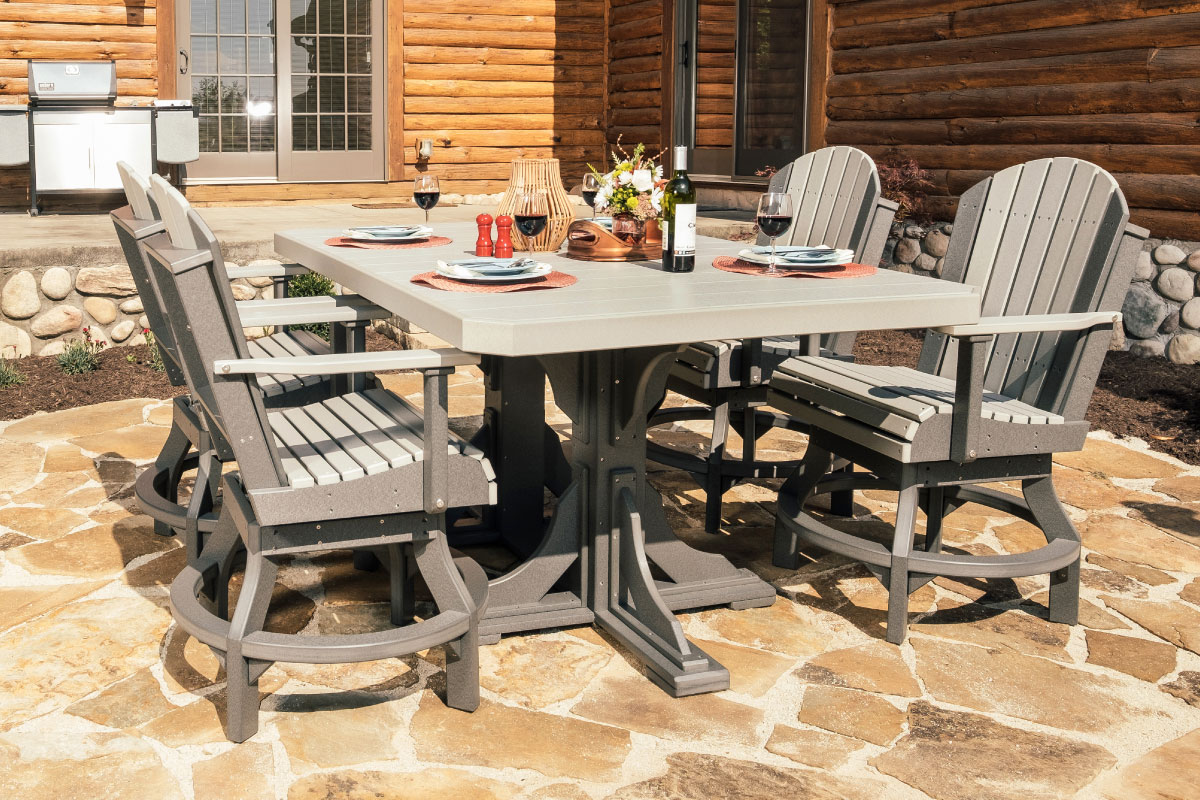 Poly Dining Sets and Tables
Whether you are looking for a Poly Dining Set with straight edges and curves offering a more contemporary Poly Dining Set, or a round table and chair set for your outdoor patio, we have options for you.
The Poly Outdoor Dining Tables, Chairs and Benches are perfect for dinner parties and entertaining neighbors in your very own backyard. Choose table height or pub height and enjoy your patio like never before!
Download the Catalog
Poly Accessories
Find accessories for your LuxCraft poly furniture accessories here. Whether you are looking for cupholders, trash cans, a footrest for your Adirondack chairs or flower planters, you can find them here.
Download the Catalog