Are you thinking about buying a garden shed, but you're not sure which one is the right one? There are many garden shed designs and purposes; therefore, you want to make sure you get the one that fits your budget and intended purpose.
Folks use garden sheds for many purposes, and there is no end to possible designs. Some designs are simply aesthetically pleasing but don't offer up much in quality or space. In this article, we will cover five styles of garden sheds and their purposes.
If you are looking for a garden shed to store a few garden tools, then any small shed would do. For everything else, you will want to give it a little more thought.
The Utility Garden Shed
If you are seeking the most affordable quality-built garden shed, then you may want to look at the Utility Shed. It is built with 7' high walls and double doors. This will accommodate most lawn equipment. Although, people store plenty of other personal property in them. The standard Utility Shed is built without windows and a lower roof pitch. You can add windows, and/or a higher roof pitch if this how you want it built.
We build the utility shed with fewer features making it a more economical model; however, it is built with the same high quality you would expect in a more deluxe model. It provides the protection you need, with all the durability of a well-built garden shed.
Mini Barn Garden Shed
The Utility Shed offers plenty of space, but maybe you are looking for a little more space and still as budget friendly as possible, then you might consider the Mini Barn. The Mini Barn is a garden shed that isn't going to break the bank, and you might fall in love with the style. The side walls are lower, but the gambrel roof opens up space inside. It comes with a 2' loft that provides extra storage space. This perhaps is one of the best sellers due to it being spacious, economical, and built to last. Many folks like the little barn look too.
Anaconda Garden Shed
The Anaconda Shed is a great garden shed similar to the utility shed with a gable roof. The difference is this shed comes standard with two windows to let in outside light. This garden shed also has double doors that allow for storing a riding lawnmower. It is built with 7' walls and doors can be placed on the side or at the end. The Anaconda Shed roof has an overhang which provides additional protection to the shed and its content.
Brookside Garden Shed
The Brookside Shed is unique compared to other garden sheds. It is very aesthetically pleasing. You might even describe it as being a quaint garden shed. It built with a porch and single door, so it is not something you would store a riding lawn mower in unless you had double door added to one of the sides.
The Brookside Shed would make a perfect garden shed for potting and storing basic gardening tools. It could just as easily be turned into a guest house, studio, or office. You could add shutters or planters if you are going after the she shed look.
Lofted Barn Garden Shed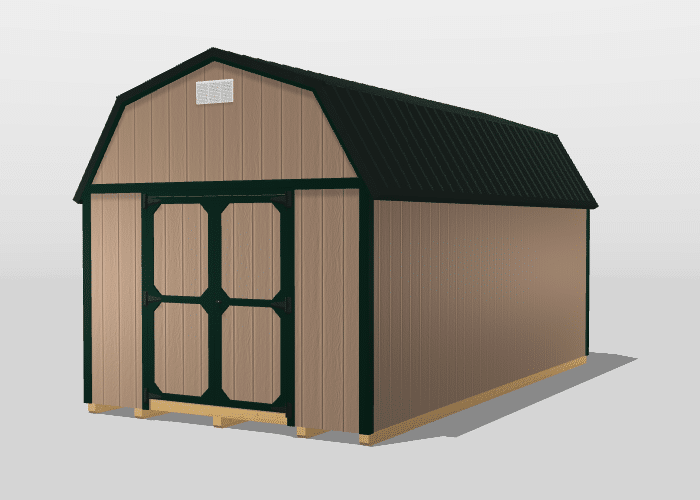 If you need maximum space, then the Lofted Barn is the garden shed of choice. What makes the lofted barn so spacious is the gambrel roof that adds additional headspace. This extra space allows for a large loft. We build the loft half the length of the building. This clear space off the floor. Of course, a garden shed this size needs double doors.
Now that you know some basic garden shed styles, you should go and create a 3D rendition of your garden shed!
You're Going to Love This!
We have a 3D builder that will give you the ability to design the look, size, and features the way you imagine your perfect garden shed. You can then either save the design or submit it for a quote. The choice is yours.
First, Pick the Style
We have a 3D builder that will give you the ability to design the look, size, and features the way you imagine your perfect garden shed. You can then either save the design or submit it for a quote. The choice is yours.
Before you choose how many windows or doors, you need to decide what size of garden shed are you designing.
Next, Choose Your Features
You can go with the standard or you can choose from the various doors, windows, and vent options. Doors for example come in single, double, and rollup with different sizes and designs options. You can select which wall and move the window or door to where you think you want it. Submit it for a quote and a professional will assist you with any questions you might have.
There are thirteen plus options for the walls and the trim. You also have about seven colors to choose from for the metal roof.
Then, Choose Your Flooring and Interior
We offer built-in loft and shelving. We also offer workbenches and a few other options.
Lastly, you can have a link emailed to you with the design you created, or you can submit a quote for a garden shed. You will see an autogenerated estimate, but for a final quote, you will need to submit your design for a review.