Should you buy or DIY?
You type "small cabin for sale" into your browser, and you find a shack that looks like it is going to fall over. Nope, not what you are looking for, so you scroll down and find a grandiose chateau! Sure, it's beautiful, but it is way more than you're looking for. Let's be honest, you are not looking to spend a fortune, but you also don't want to buy a shack.
So, you think; "I'll just do it myself". Now you search for "small cabin kits". After looking over the options, you think "that's going to be a bigger project than I really want to take on". "There got to be an easier way".
What you need is a happy medium. Something that's not too expensive and that's not too much work. This is what we are going to talk about here, a way to reduce the work required to have that small cabin you've always dream of and not overspend for it. It's a sort of hybrid solution to owning your small cabin.
Prebuilt Small Cabin
If you buy a small prebuilt or portable small cabin, you can then have it delivered to you. Then you can decide how much work should go into finishing the cabin. These quality cabins are built as a shell leaving you the enjoyment of finishing your cabin!
We will introduce you to four affordable cabins and give you some ideas of how you can finish the cabin. Each of these small cabins come with standard features with upgrade options. We will cover some of these options later.
Mt Lair Cabins
The Mt Lair Cabins are built with a long 3' porch extending the length of the cabin. Generally, the door is centered on the porch, but it can be built anywhere.
Here is an example of a more spacious design of the Mt Lair Cabin. This design was created on the Montana Structures' website with our 3D Builder. This makes it easy to change the cabin style, size, and features.
After you create your design, you will get an estimate. This keeps you in control of how much you want to spend and what you want in your small cabin shell. This design is a 14×36 small cabin. It has 6 windows and two doors. This makes a great hunting cabin. You could start your early morning drinking your coffee on the porch enjoying God's creation.
Lofted Cabins
The Lofted Cabins are built with a gambrel roof which open up more space in the interior. These small cabins are built with a loft that can be used as a sleeping quarter or for extra storage. We generally build the Lofted Cabins with the porch at the end. You have the option of railing.
Below is a 3D design of the Lofted Cabin. The 3D Builder allows you to select various sizes. This 14×32 lofted cabin has 8 windows. It has a porch with railings. These are all options you can make when you design your cabin in the 3D Builder.
The Outfitter Cabins
The Outfitter Cabin have a gable roof and a porch at the end. This style has a loft, but not as spacious as the Lofted Cabin; however, the Outfitter can be built with a higher roof pitch.
The 3D model is designed is 14×36 and has a higher roof pitch. It has a porch with railings. It has 7 insulated windows completed with shutters and planters. When you design a small cabin, you choose two colors: one for the walls, and a second for trimming. If you opt to have shutters, then you could choose another color for the shutters.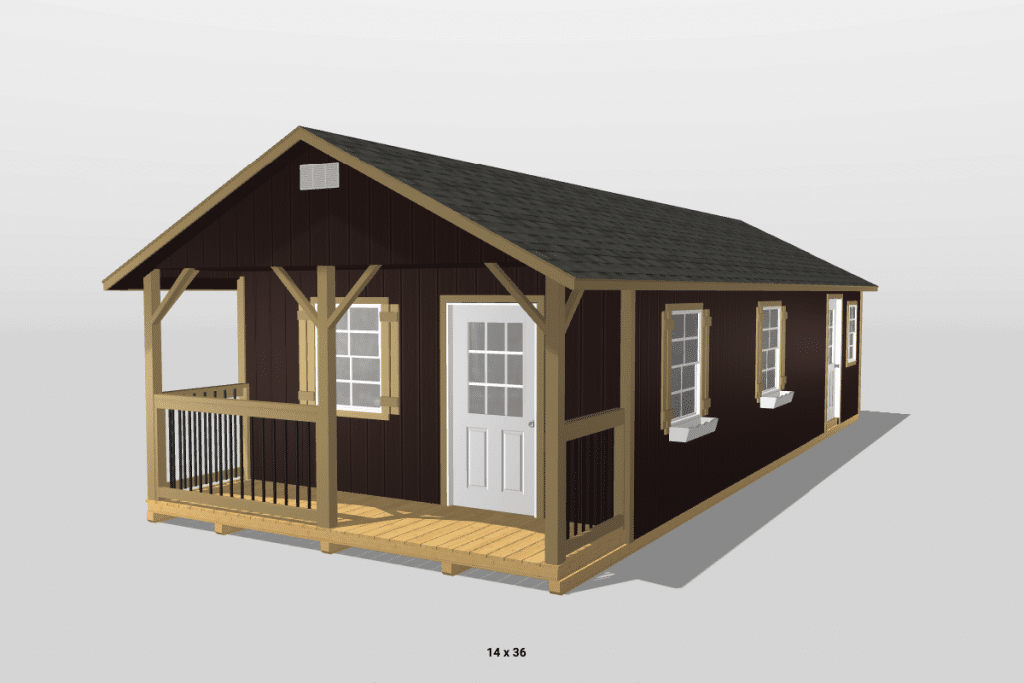 Brookside Quaint Small Cabins
The Brookside is listed as a shed on our website, but it has all the making of a small cabin. It has a corner porch that is 3' wide and up to half the length of the building. Theses building make a quaint small cabin.
The 3D model we designed is 14×36 with two doors and 8 insulated windows. It has dimensional shingles with a steeper roof pitch.
Below are some images of the process of personalizing a shell cabin.
The first image is of a lofted cabin shell. The next two images are what it could look like after you lay in the flooring, install the cabinets, and bring in the appliance. You can work at your own pace, and in the end you will save money and be can be proud of the fruits of your labor.
We can help you get started. We build small cabin shells ranging from 8×10 to 14×36. We provide window and door options. Our buildings are built with quality materials, and are delivered to your property.